The increase in the number of options and connected equipment imposes the choice of bus-type interconnections (CAN J1939, PROFIBUS). But how to distinguish between the multitude of protocols and communication systems? "Field bus" type communications systems have become standard in many applications (vehicles, industrial automation, home automation, etc). Whatever their format (CAN-bus, USB, OPEN- bus…), these communication systems keep enticing manufacturers.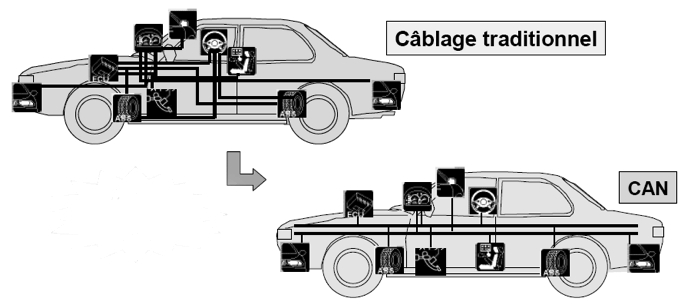 DESCRIPTION
The CAN-bus system (Controller Area Network) allows communication between the different parts of an equipment through PC board integration, while limiting the number of connections.Let's take the example of a vehicle (automotive, agricultural, off-road…). All dashboard components (pushbutton or toggle switches, indicators) directly operate the different functionalities of the vehicle (heating, cooling, etc.) by being connected to a single cable via PC boards or calculators, which will communicate alternatively. The introduction of multiplexed buses (mainly CAN) in the automotive industry aims at reducing the cable quantity (up to 2 km of cables by car).In fact, as soon as a system (car, aircraft, phone network…) become complex, the point-to-point approach becomes impossible due to the huge quantity of cable to install and the cost (in weight, materials, labor, maintenance).
ADVANTAGES
The advantages of a CAN-bus are evident: Simplicity of operation: the limitation of the number of cables simplifies not only mounting but also maintenance. No need to search in a forest of cables to repair a dysfunction. Moreover, the CAN-bus system allows memorization of the equipment operating history: errors are memorized and indexed, so can be easily detected and repaired during maintenance operations.
Reduction of production costs: the installation of CAN-bus systems reduces the cable quantity and all related costs (materials and labor).
Innovation: the CAN-bus format has allowed to improve the functionalities of numerous applications (automotive, aviation…): lower consumption, security, comfort, error detection, etc.Listening to its clients, APEM has integrated CAN-bus systems in the HMI solutions offered to its customers. Our expertise in these systems allow our teams to propose complete interface solutions combining components (switches, switch panels, indicators, joysticks), standard PC board and programming. A real added-value for APEM, who offers turnkey solutions reducing development costs by using standard internally-developed technological bricks. Customer advantages are numerous: simplicity, reactivity, flexibility and cost reduction.Communication tools are our future and APEM is constantly working on developing new interface solutions based on the very latest wireless communication systems.