Many criteria should be considered when defining a new control or HMI products for an off-road or off-highway vehicle. Cabins are always more complex with more options and functions available for the driver, new types of vehicle networks, new standards and more functional safety requirements.
Additionally, an important share of the vehicle "personality" is expressed through vehicle controls and HMI (Human Machine Interface) products: colors, shape and material selections can give a great impression of quality and comfort! You have only one chance to make a good first impression to your customer with your new vehicle. It is through HMI.
ROBUST AND RELIABLE BY DESIGN
Off-road and off-highway vehicles (like tractors, harvesters, excavators, diggers, loaders, mining equipment, snow groomers, snow plows, cranes, forklifts, tele loaders, forestry machinery…) are subject to extreme conditions and have to withstand rain, mud, dust, extreme temperatures, shocks and vibrations… Obviously this environment has to be taken into account in the design of new HMI products! The components used in cabins have a long life expectancy and can be operated repeatedly without any loss of efficiency. APEM products for heavy duty vehicles have been designed, qualified and fully tested for these demanding conditions to guarantee the highest level of reliability and robustness. As a result, these products have a long lifetime and can be operated again and again for years. Since 1952 APEM has built its reputation on the quality of its products. To maximize this quality APEM has a vertically integrated organization for hardware, software and electronics development and production.Particular attention is necessary in the choice of plastic materials and elastomers. These materials must resist extreme temperatures (-40°/+85°C). They should also resist the hydrocarbons, grease and oil used in different parts of the vehicle.
THE RIGHT PRODUCT FOR YOUR APPLICATION
First you have the choice between multiple HMI product types: stand-alone panel switches, keypads, joysticks, grips, but also fingertip joysticks, thumbsticks, thumbwheels, encoder…Depending on the vehicle functions and your application APEM can support you designing the right product for your exact need. With the widest range of HMI products and a deep experience in the vehicle market APEM has a unique position. We can mix these products and technologies to offer you the best solution.You want to put more functions easily reachable by the driver and build a "joystick centric" cabin? We can integrate a thumbstick and a backlit thumbwheel on a soft touch rubber keypad mounted on a hall effect CAN bus joystick for you. 100% APEM. 100% APEM quality.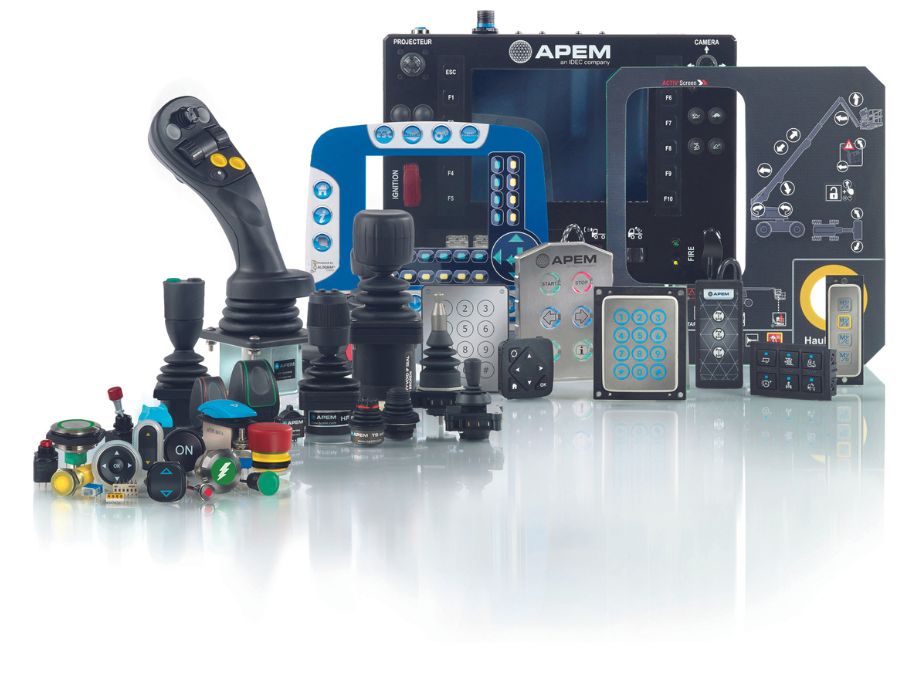 ERGONOMICS IS KEY
Ergonomic is a wide topic, covering the cabin organization, what we see and hear in this cabin, and the touch feelings of the user when interacting with cabin HMI products.The cabin organization mainly depends on the vehicle application. Let's take an example: it is now very common to see armrest fully populated with switches, fingertip joysticks and keypads on tractors with more than 100 HP. It makes all the functions of the tractor and of the implements easily accessible.This trend is not applicable to excavators as the organization of the vehicle controls is different. The driver needs to have both hands on grips in a shaking environment and there are less options than in a tractor.Ergonomics can sometime find inspiration in automobile. The use of a joystick with a modern look, similar to a gear lever in a car will be visually appealing in your vehicle!
Colors are usually defined by the vehicle manufacturer following 3 criteria: brand habits, function and safety. For example, yellow is the best color to be noticed by the human brain, this is why it is commonly used for a safety color and why safety critical functions such as PTO in tractors are most often in yellow.Of course, it is mandatory to have commonality in the look and feel of all HMI products in the cabin.Backlighting of HMI components is more and more requested by the market to improve the look of the product and make the vehicle easier to control in the dark (at night, in a mine or a deep forest).
The best backlighting technology available today is the multi-color "ghost keypad" technology: logos are hidden when the function is turned off or when an optional function is not selected by the end customer. Only few logos will be visible to limit driver's distractions and therefore improve its safety. Moreover, with this technology you can use one single keypad for multiple vehicles: you activate or not the option chosen by the user. Thus you can simplify the logistics and reduce cost.
Tactile feel and haptic of HMI products are key points important point as they should clearly give the information to the user that the switch/function has been activated without looking at it, even if he is wearing gloves. The feedback will also give an impression of quality. It is really about touch feeling so it is very difficult to quantify! At APEM we believe that in a moving off-road or off-highway vehicle there should be no compromise on tactile feedback of joysticks, switches and keypads. It will allow the driver to focus more on its task than on the control interface.
APEM proposes components with enhanced tactile feedback. A good example is the « snap-action » IM pushbutton switch with fast transfer of contacts from one position to another, whatever the speed of actuator travel. It fits very well on a joystick.In the driver cabin, material selection will also have a big impact on the impression of global quality. A clear trend is to use rubber keypads, sometimes with soft touch rubber. When combined with CAN bus technology and a nice backlighting, it makes a great product. To improve the impression of quality APEM can also offer hard backlighted keys.
Many APEM products are designed in collaboration with industrial design experts to anticipate market needs. We select colors, materials, marking technologies, shape, plating and other finishes, to make them as aesthetic pleasing as possible.Customized marking of HMI product is very often required to make the product really match your need. For KR rocker series alone APEM offers more than 1,000 marking!
EASY INTEGRATION
Integration of HMI products in the cabin structure has to be considered from the beginning as it can have a significant impact on integration costs and on cabin design.If you need to integrate a control function directly on a PCB you should consider using illuminated tact switches.Integration of cables and connectors in HMI products will make the installation easier and quicker. Snap-in mounting makes installation and maintenance easy to perform in cabin interior not subject to rain.The next step in integration is to provide integrated keyboards combining keypads, switches and joysticks.For some vehicles like tractors, more integration means providing a fully populated armrest. Some OEM will prefer pick up the best HMI components and have the integration done close to the final assembly line of the vehicle for easy and quick armrest customization purpose.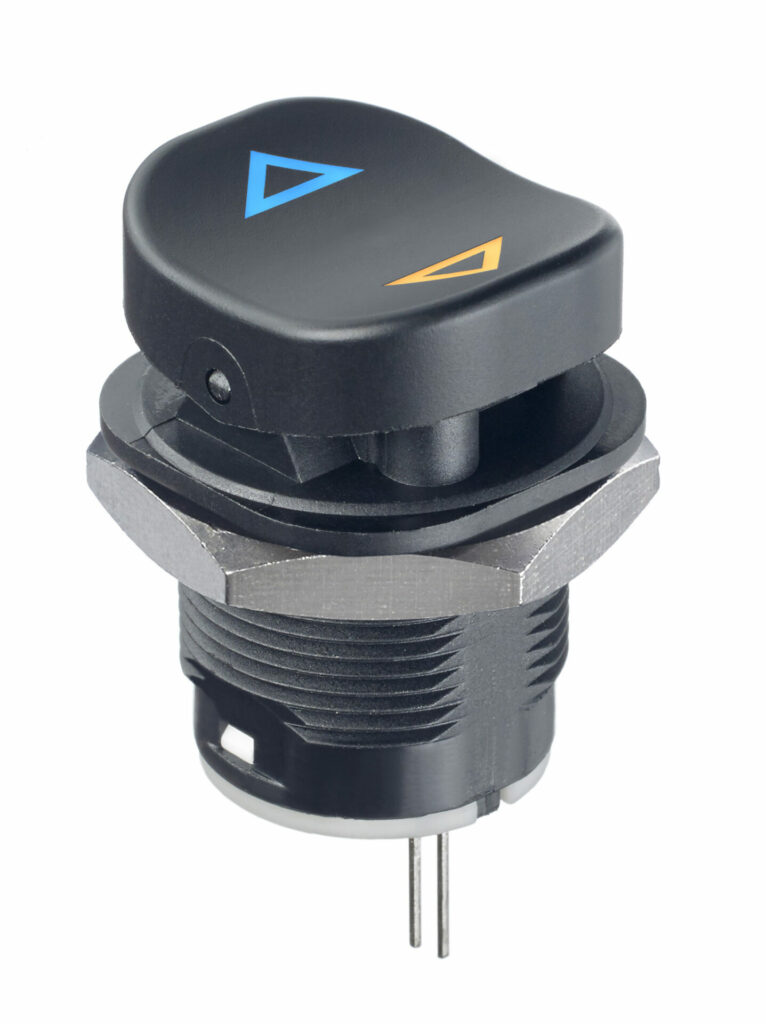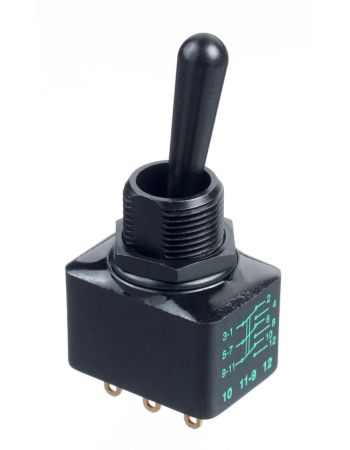 CONNECTION TO THE VEHICLE NETWORK
HMI products have to be fully compatible with the bus of your vehicle.A well-established bus is CAN (Controller Area Network). This real-time communication protocol allows HMI products and other devices to communicate with the vehicle ECUs (Electronic Control Units).Hybrid networks with CAN, LIN and/or Ethernet (mainly used for displays) can also be considered to limit cost, increase bandwidth and/or increase the robustness of the network.In agricultural machinery, plug & play ISOBUS solutions are more and more popular. With one ISOBUS qualified HMI interface (joystick, keyboard, display…) the user can control a large selection of implements regardless of the manufacturer.
MORE FUNCTIONAL SAFETY
Operator safety in mobile machinery is becoming increasingly important around the world.Machine manufacturers have to comply with the European "Machinery Directive" 2006/42/EC and assess the risks resulting from their machinery. An important measure for risk reduction is FUNCTIONAL SAFETY: standards ISO 13849-1:2006 and IEC 62061:2005 define Performance Levels (PL) and Safety Integrity Level (SIL) which are more and more used to reduce the probability of safety failure. APEM can provide COTS (Component Off the Shelf) SIL/PL compatible products or develop SIL/PL custom product per your need. APEM also supports joystick manufacturers willing to integrate APEM components into SIL 2 or SIL 3 systems.Another standard is the new European Framework or "Mother regulation" that improve tractor safety and ergonomics for user. It should be implemented end 2017. Article 17 and 18 are about functional and occupational safety.
PRODUCTS FOR SAFETY CRITICAL FUNCTIONS
APEM offers safety critical HMI products with the highest level of reliability. Examples:

Locking power rocker switch KL series with patented intuitive ergonomics, often used for PTO function or parking brake. Two frames protect the unlocking actuator from untimely activation. High security emergency-stop A02-ES-H. By design, this product has a failsafe modular construction. Many other emergency-stop switches are not failsafe and rely on butt action contacts: the NC contacts remain closed until the actuator is pressed. Therefore, if the switch is damaged, destroyed or assembled incorrectly, the contacts remain closed. On the A02ES-H, if the operator or switch block become separated, the circuit will open and the equipment will stop. It is APEM's mission to help mobile machinery manufacturers find or develop the right HMI products for their need. We put a lot of energy in understanding the vehicle environment to make sure that we propose the best HMI products matching or exceeding your expectations. Consult us!