The switches used in military applications have technical and ergonomic specifications ensuring high performance and reliability.These switches must conform to military standards.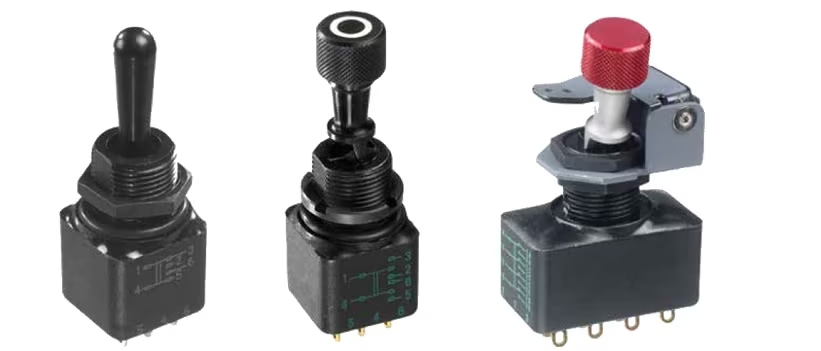 WHICH STANDARDS APPLY TO MILITARY SWITCHES?
Concerning product development and qualification, two standards are essential: – MIL: a US standard conferring an accreditation to manufacture for the US army.Some MIL standards define the general development rules: for instance the MIL-STD-1472 standard defines the product design rules, the MIL-STD-810 and 202 specify the environmental tests conditions, the MIL-STD-461 determines the EMC test conditions… Some other standards precisely define product specifications, qualification tests, marking…Two other MIL standards are dedicated to military switches:- MIL-STD-3950 "Switches, toggles, environmentally sealed, general specification for"- MIL-STD-83731 "Switches, toggles, unsealed and sealed, general specification for"Manufacturers whose products have been qualified and validated by the DLA (Defense Logistics Agency) are QPL (Qualified Part List) listed. The DLA is a US government agency of the DoD (Department of Defense).
CECC 96000: a European quality standard defining test rules for switches.More precisely, the CECC 96401-001, 96201-005 and 96201-008 detail specifications define the specific tests required by the military market.
APEM offers CECC qualified products and QPL listed according to the MIL-STD-3950 and MIL-STD-83731 standards.APEM is also a NATO listed manufacturer (No F7507). Our production lines have been audited and accredited in order to ensure the traceability of our military products.
HOW TO SELECT A MILITARY SWITCH SUPPLIER?
First thing is to work with a manufacturer of CECC and MIL qualified products having a good knowledge of military standards, specifications and constraints.This ensures having:Products with military specifications: sealing to IP67 or IP68 (immersion under 10 m water), resistance to shocks and vibrations, resistance to extreme temperatures, electromagnetic immunity, matte black chrome finish, salt spray resistance…Quality products. A performing quality management system is necessary to produce military qualified products.Continuity of ranges over time.
Then why work with APEM? All APEM CECC and MIL qualified products are 100% tested. APEM has a performing quality management system. In addition to its ISO 9001 (version 2008) certification, APEM is engaged in a continuous improvement process for which it has obtained the ISO TS certification.Finally, for new products, APEM has implemented a rigorous development process, based on the APQP method. For product qualification, APEM has its own test laboratory, meeting international safety and quality standards.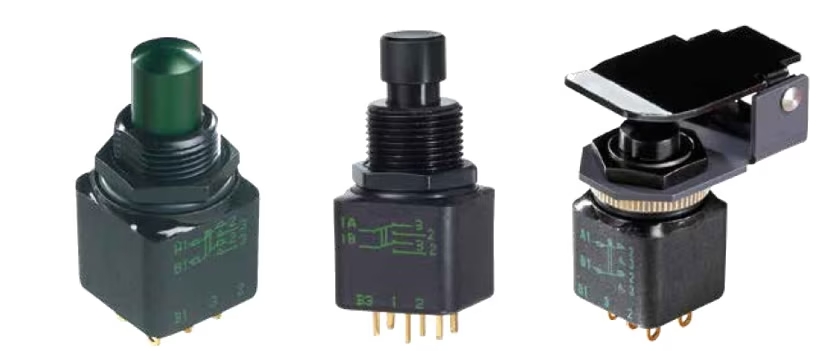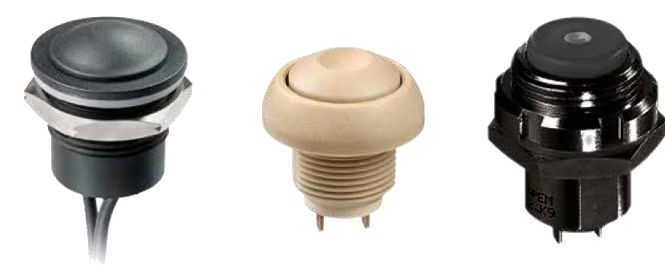 I DON'T FIND THE MIL OR CECC QUALIFIED PRODUCT FOR MY APPLICATION. WHAT CAN I DO?
APEM has extensive product ranges for harsh and military environments. Our catalogs feature a multitude of configurations based on MIL and CECC qualified products.We can, for example, modify the actuator or locking lever system to meet your need.
MIL and CECC standards do not cover all applications, nor all products.Therefore, APEM also offers catalog products not approved to MIL or CECC, but perfectly adapted for military use.It is the case for our "I" range pushbutton switches, Multimec 5 PCB switches, ES emergency stop switches, TS, HS and NV micro joysticks or FG and 3000 joysticks.