To integrate at best in your equipment, APEM toggle switches can be customized. But it is sometimes difficult to select the best adapted model.At the design stage, 4 points are to be considered: Ergonomics, Finish, Locking mechanism and Accessories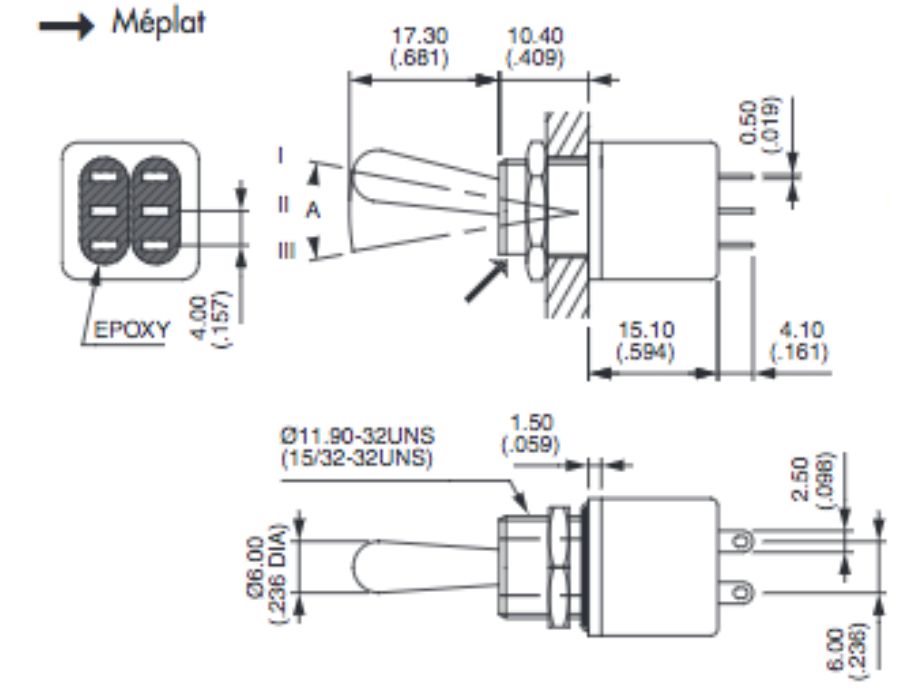 LEVER ERGONOMICS
Actuator length and width can be adapted. Several options are offered for materials. Brass is generally chosen for its resistance to shocks and torsion.But for specific shapes, a plastic lever can also be chosen. The advantage of this solution is the possibility to customize the color (RAL/pantone).The lever can also feature a colored ring, luminescent tip, etc.
FINISH
The switch can receive a surface treatment, for example a discrete aspect for military applications.Colored or plain anodization, bright, satin or black chrome plating, nickel plated brass, even raw brass… the choice is large to adapt the switch to its environment.Another advantage of finishes is also to protect against corrosion or abrasion (dust, acid, hydrocarbons, salt spray…).
LOCKING LEVERS
Two tabs integrated to the bushing prevent lever movement. The lever should be pulled before being actuated. Locking has an interest as a control function but also to prevent any inadvertent actuation in case of strong shaking or vibrations (embedded functions). The locking mechanism can be adapted to your application: more than 30 options are available.
ACCESSORIES
• Sealing boots: Their purpose is to improve switch sealing. But sometimes, they can change the lever design to a joystick shape, for instance.They are created specifically for one lever shape. However, we also propose half boots covering the actuator base and fitting several lever shapes… a good cost-saving solution.
• Switch guards: Protection against inadvertent actuation- If wire sealed, control of the equipment usage- Return of the switch actuator to its initial position. By their colors, shapes and materials, switch guards are designed to suit your application.Custom appearance, control function or improved robustness, all our options can be combined to create the product meeting your requirement.